For the full highlights of the tours and talks listed below, please click above on My Jewish Tours and any other page featuring tours that interest you.
PUBLIC TOURS (with others joining in) - My Old Jewish Quarter tour in London's East End is conducted most Sunday mornings for £10. Complete the form on the right with your preference for dates and I will advise you if I am conducting an Old Jewish Quarter public tour then. See dates and times below of my other public tours. More dates are always added to this page so keep watching! Bookings are essential.
As you will see below, I also conduct regular and different Public tours (and lectures) for London's Jewish Community Centre (JW3).
PRIVATE TOURS are available any morning, afternoon and early evening for individuals and groups, such as clubs or groups of friends and relatives. Ideal for visitors to London. Also available are tailor-made private tours with sites featuring your personal family connections from the 'old days'. Complete the form opposite for further information and my charges - I shall reply promptly.
EARLY EVENING PRIVATE TOURS conducted at a time to suit you, such as 6.00pm - 8.00pm. Ideal for after work get togethers for colleagues and friends. My Old Jewish Quarter and Jewish West End early evening tours are particularly delightful as these two districts take on an exciting character after dusk. Both tours end in areas with lots of restaurants, cafes and bars. Please enquire by completing the form opposite and mentioning in the box at the bottom you are interested in an early evening private tour.
Public tours and talks:
For highlights of the following tours, click on My Jewish Tours at the bottom of this page. The following dates are both recent and forthcoming events:
November 2017:
Thursday, November 2nd – TOUR - London's Famous Attractions ...with a touch of Jewish flavour! 10.30am. Conducted for JW3. £15. It's really two tours in one! See the highlights by clicking below on My Jewish Tours and to book this tour click here SOLD OUT
December 2017:
Monday, December 4th – TALK - GOOD OLD BAD OLD DAYS! The amazing story of the Jewish East End. With music and slides. 2.30pm. Talk at JW3 in north west London. £15. For more details and to book please click on this link: https://www.jw3.org.uk/event/good-old-bad-old-days-0?pid=32824#.WhMSUCaDNPY
January 2018:
Wednesday, January 31st – TALK - JEWISH ROME ...it's the enthralling 2,200 year history of Rome's Jewish community. With a host of colour slides. 7.30pm. Talk at JW3 in north west London. £12 - £15. For more details and to book please click on this link: https://www.jw3.org.uk/event/jewish-rome-1?pid=35215#.WhMbDiaDNPY
See details of my exciting Gift Vouchers idea at the bottom of this page - Gift Vouchers make excellent presents.
Please complete as much as possible of the following form and I will reply quickly:
A gift voucher makes the perfect present!
Give a Gift Voucher for one of my £10 Sunday morning public tours. It's a perfect treat for someone visiting London, a birthday or anniversary gift, or simply a nice 'thank you' to somebody.
As a very special gesture give a gift voucher for a private tour which I conduct any day of the week.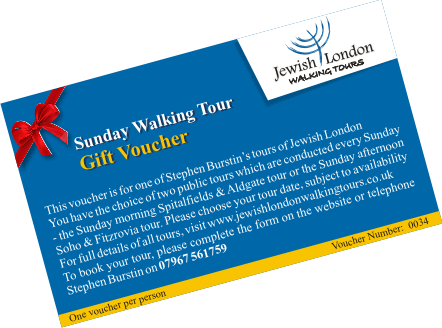 Please email or call me for further details on this novel idea